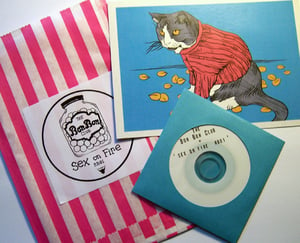 £

2.00 - On Sale
The second single from Sheffield's stripped-down Drums/Bass/Synth trio takes the form of a mini 3" CD and limited edition colour postcard by noted Sheffield comic artist Oliver Allchin, all loving hand-packaged in a pink candy stripe sweetie bag complete with cover sticker.
This is a very limited edition release so be quick!
The tracks can also be downloaded from the usual digital retailers.
TRACKLIST:
1. Sex On Fire
(originally by Kings Of Leon)
2. The Day I See You Again
(originally by Dubstar)
3. Dreams
(Originally By Fleetwood Mac)
Cat no: RB01